Modular Buildings For Sale or Rent across the UK
Modular Building Systems are the modern way of providing bespoke prefabricated Portable Unit buildings for many different applications such as:-
Modular Classrooms for use in schools
Portable Office Units for businesses
Temporary health centres for healthcare organisations
Training Units for the ministry of defence
Modular canteen buildings for a staff of factory workers
Our Portable Modular Buildings come in a range of sizes (from 20ft x 16ft, 24ft x 20ft, 40ft x 20ft right up to 40ft x 40ft offices) and are adaptable and can be re-configured and relocated as to the customer's requirements. Portable Unit Modules can be linked side by side or end to end; single or multi storey and are available in a wide range of internal and external finishes using the latest technologies in design and materials.
Modular Buildings can be as fully equipped as a permanent structure such as an art room for a school or a training suite for a corporation, at a fraction of the overall cost and erected in a much quicker timeframe.
Anglo Scottish has been a Modular Building Supplier for well over twenty years, providing the specific design layout, the delivery and safe and professional on-site installation. We supply a range of modular Portable Unit products including a range from the leading European supplier Containex. They have 25 years of experience producing high quality Containex Modular Buildings and cabins.
Our High Quality Modular Buildings are installed quickly and efficiently with a minimal amount of disturbance.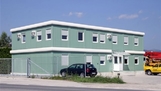 Examples of recently installed double storey steel...
Example, call for further details
More Information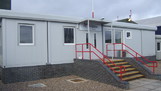 Pictures of new 5000sqft modular building recently...
Example, call for further details
More Information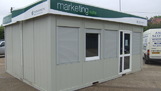 Assorted pictures of various projects completed...
Example, call for further details
More Information
The products featured on our website is not our complete stock, please call us with your requirements