Genuine Portakabin Units For Sale or Rent across the UK
Units only manufactured by Portakabin and generally regarded within the industry as one of the best built and most durable of units.
When supplied from new Portakabin provides a 30year structural warranty covering walls, floor and roofs with replacement of any elements that might fail.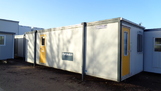 Genuine Portakabin 28ft x 10ft Office unit in...
More Information
The products featured on our website is not our complete stock, please call us with your requirements